CelebrityPress To Release The Book Pushing To The Front By Best-selling Author Tracy E. Myers And Brian Tracy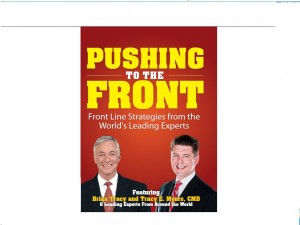 The Nations Premier Automotive Solutions Provider, Tracy Myers, has recently signed a publishing deal with CelebrityPress, a leading business and marketing book publishing company, along with Brian Tracy and other leading business and marketing experts from around the world to release the book, Pushing To The Front.
Orlando, Fla. – October 1, 2011 – #1 Best-selling author and owner of Frank Myers Auto, Tracy Myers, recently joined best-selling author and speaker, Brian Tracy and several leading businesspeople and entrepreneurs from around the world to co-write the forthcoming book titled, Pushing To The Front: Front Line Strategies From The World's Leading Entrepreneurs.  Nick Nanton, Esq. along with business partner, JW Dicks, Esq., recently signed a publishing deal with each of these authors to contribute their expertise to the book, which will be released under their CelebrityPress™ imprint.
Tracy E. Myers is an author, car dealership owner, speaker and entrepreneur. He recently celebrated the opening of his newest business, The Celebrity Academy in Charlotte, NC. The Academy teaches professionals, entrepreneurs and business owners how to get noticed, gain instant credibility, make millions and dominate their competition by building their celebrity expert status.
Following these principles have helped Tracy gain enormous success at his own dealership, Frank Myers Auto Maxx. It was recently recognized as the Number One Small Businesses in NC by Business Leader Magazine, one of the top three dealerships to work for in the country by The Dealer Business Journal, and one of the Top 22 Independent Automotive Retailers in the United States by Auto Dealer Monthly Magazine.
Pushing To The Front, scheduled for release on Wednesday, October 5th, 2011, will feature top advice from leading entrepreneurs and marketing experts from across the globe.   Pushing to the Front will offer proven business strategies to help people adapt and thrive in the new economy.
To learn more about Tracy E. Myers, please visit http://www.frankmyersauto.com/ and http://www.tracymyers.com
To learn more about CelebrityPress™, please visit http://www.CelebrityPressPublishing.com
About Tracy Myers:
Tracy graduated from the Certified Master Dealer program at Northwood University and was the youngest person to receive the National Quality Dealer Of The Year award, which is the highest obtainable honor in the used car industry.
He has provided guest commentary on the FOX Business Network and has also been featured on NBC, ABC, CBS & FOX affiliates across the country. He has also appeared on stages from coast to coast and is the author of several books, including the #1 best-selling books Uncle Frank 'Sez' and YOU Are The Brand, Stupid!
Tracy and his wife Lorna have made their home in Lewisville, NC with their 2 children Maddie and Presley. He is a Christian Business Owner whose goal is to run his business "By the Book".
About Celebrity Press™:
Celebrity Press™ is a business book publisher that publishes books from thought leaders around the world. Celebrity Press™ specializes in helping its authors grow their businesses through book publishing. Celebrity Press™ has published books alongside Brian Tracy, Ron LeGrand, Mari Smith, Kelly O'Neil, Alexis Martin Neely and many of the biggest experts across diverse fields.
If you'd like to learn more about Celebrity Press™ or to see if we're a good fit for your book project, please visit http://www.celebritypresspublishing.com/contact-us