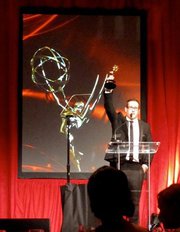 Tracy Myers, best-selling author and owner of Frank Myers Auto, will serve as an Executive Producer on the upcoming documentary film, "Esperanza", from CelebrityFilms™.  Launching production this week in the Dominican Republic, the film will showcase Esperanza International – an organization that dedicates itself to free children and their families from poverty through initiatives that generate income, education and health, restoring self-worth and dignity to those who have lost hope. Emmy Award winning Director, Nick Nanton, will direct the film.
Tracy Myers will join The Emmy Award winning team at CelebrityFilms™ to help bring this film to full production. The documentary will reveal an in-depth look at Esperanza International's incredible story and what can happen when people believe in an idea and act to make it come true.
Dave Valle, former Major League Baseball catcher, along with his wife Vicky founded the organization in 1995.  Learn more here: http://esperanza.org/home/about-us/founders-story.html. Their mission statement can be found here: http://esperanza.org/home/about-us/mission-statement.html
About Tracy Myers
Tracy Myers is a Certified Master Dealer and was the youngest ever recipient of the National Quality Dealer of the Year award by the NIADA, which is the highest obtainable honor in the used car industry. His car dealership, Frank Myers Auto Maxx, was recently recognized as the number one Small Businesses in NC by Business Leader Magazine, one of the Top 3 dealerships to work for in the country by The Dealer Business Journal and one of the Top 15 Independent Automotive Retailers in the United States by Auto Dealer Monthly Magazine.
Myers has been a guest business correspondent on FOX News, appeared on NBC, ABC and CBS affiliates across the country, been featured in USA Today and written for Fast Company. His inspirational stories and strategies for success are in demand across the country which has given him the opportunity to share the stage with the likes of with Zig Ziglar, James Malinchak, Brian Tracy, Mike Koenig, Bob Burg and Tom Hopkins…just to name a few. His best-selling books help people become better consumers as well as inspire industry leaders to become "game changers." He was also the star of the Telly Award winning film "Car Men".
About CelebrityFilms™:
CelebrityFilms™ is led by Emmy® Award Winning Director and Producer, Nick Nanton and Emmy® Nominated Producer, JW Dicks. Dicks and Nanton produce multiple syndicated television shows including The Brian Tracy Show, Meet the Experts, The Michael E. Gerber Show, World Fitness Elite, Consumer's Advocate, The New American Dream and Health & Wellness Today.  Their productions have been nominated for 2 Emmy's and they have been awarded 11 Telly Awards for excellence in television and film production.  Combined, they have produced and directed more than 300 television episodes and dozens of films.
Dicks & Nanton have been seen in USA Today, The Wall Street Journal, Newsweek, Inc. Magazine, The New York Times, Entrepreneur® Magazine, FastCompany.com and have appeared on ABC, NBC, CBS, and FOX television affiliates around the country, as well.