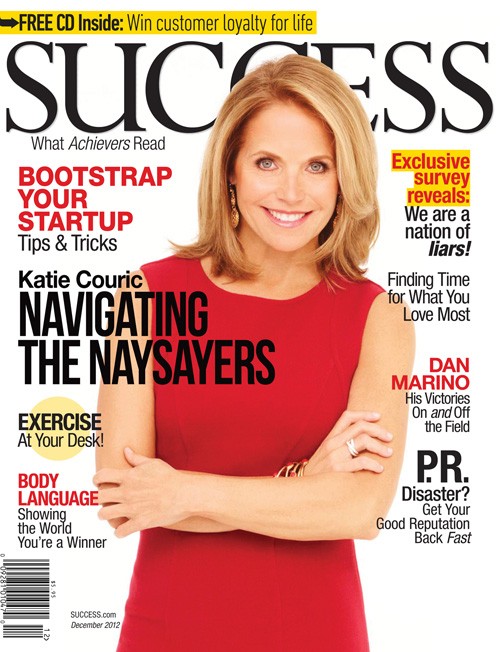 Best-selling author Tracy Myers, was recently profiled in the November 2012 issue of Success magazine. In the 5 page feature, Repairing Brand Damage, Tracy Myers was interviewed about the proper way for a small business to handle a public relations nightmare.
Tracy stressed the importance of getting out in front of the story, of being honest and transparent. "To spread your message effectively, it's essential to have your support group—what I affectionately call "the herd"—in place from the start. Your loyal customers—the die-hards—are your greatest allies. If anyone's going to argue on your behalf, it's them. Once something like this happens, it's too late to get the troops together," he says. "You need to do it now."
To read the full article in Success magazine, go HERE.
Tracy Myers is an award-winning small business marketing and branding solutions specialist, best-selling author, speaker, business coach and entrepreneur. As the founder of his own coaching program, Tracy teaches ambitious professionals, entrepreneurs and business owners how to get noticed, gain instant credibility, make millions and dominate their competition by building their expert brand.
Tracy has been featured in publications such as Forbes, USA Today and Success Magazine, been profiled on The Biography Channel and The History Channel, written for Fast Company, been a guest business correspondent for the FOX News Network plus he's appeared on NBC, ABC and CBS affiliates across the country. His inspirational stories and strategies for success have given him the opportunity to share the stage with the likes of Jack Canfield, Zig Ziglar (Author of See You At The Top), James Malinchak (Star of ABC's The Secret Millionaire), Brian Tracy, Bob Burg (Co-Author of The Go-Giver), Tom Hopkins and Neil Strauss (Author of The Game & Co-Author of The Dirt with Motley Crue)…just to name a few.
Tracy is recognized as one of the top thought-leaders in the business world and has authored or co-authored 7 best-selling books alongside Brian Tracy (Author of Eat That Frog), Jack Canfield (Author of The Secret, Creator of the Chicken Soup for the Soul Series), Tom Hopkins (Author of How To Master The Art Of Selling) and many others, including the breakthrough #1 hit YOU Are The Brand, Stupid!. He was also featured in the Emmy nominated film "Car Men", which won 5 Telly Awards, and is an Executive Producer of the film "Esperanza".
For more information about Tracy Myers, visit http://www.tracymyers.com