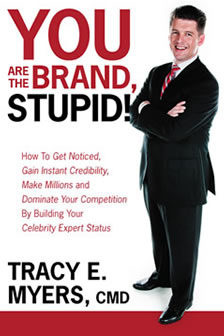 First Class Educators is excited to announce that car dealership owner, author, speaker and entrepreneur Tracy Myers has been selected as a Keynote Speaker at the 2012 AutoCon Conference and Expo.
Tracy will end the day with a bang starting at 6:15pm on September 7, 2012. Bringing a heritage of entrepreneurship that dates back more than 85 years and 4 generations, Tracy will share his families strategies of delivering the very best customer experience in everything that they do from running Frank Myers Auto Maxx to teaching other ambitious business owners, professionals and entrepreneurs how to get noticed, gain instant credibility, make millions and dominate their competition by building their expert status. From creating the ultimate experience for children and families to making every sale feel like it's the biggest deal in the world, Tracy makes sure that every part of his businesses are carefully planned to make the customer feel special, appreciated and part of the family. 
About Tracy Myers
Tracy is commonly referred to as The Nations Premier Automotive Solutions Provider. Best-Selling author and legendary speaker Brian Tracy called him "a visionary…a Walt Disney for a new generation.
He is also a Certified Master Dealer and was the youngest ever recipient of the National Quality Dealer of the Year award by the NIADA, which is the highest obtainable honor in the used car industry. His car dealership, Frank Myers Auto Maxx, was recently recognized as the number one Small Businesses in NC by Business Leader Magazine, one of the Top 3 dealerships to work for in the country by The Dealer Business Journal and one of the Top 22 Independent Automotive Retailers in the United States by Auto Dealer Monthly Magazine.
Myers has been a guest business correspondent on FOX News, appeared on NBC, ABC and CBS affiliates across the country, been featured in USA Today and written for Fast Company. His inspirational stories and strategies for success are in demand across the country which has given him the opportunity to share the stage with the likes of with Zig Ziglar, James Malinchak, Brian Tracy, Mike Koenig, Bob Burg and Tom Hopkins…just to name a few. His best-selling books help people become better consumers as well as inspire industry leaders to become "game changers." He was also featured in the Telly Award winning film "Car Men".
For more information on Tracy, please visit his website at http://www.tracymyers.com
AutoCon 2012 Delivers MORE
There are more than 70 workshops being featured at AutoCon in addition to the powerhouse keynote speakers like Jim Ziegler, Bill Lovejoy, Grant Cardone, Dave Anderson and many more.  
The 2012 Automotive Website Awards will also be presented. The annual awards recognize the very best products and services offered to car dealers.  The AWA's are the automotive industry's "Academy Awards" for technology, design, and innovation.  Details on the awards ceremony can be found at http://www.AutomotiveWebsiteAwards.com
About AutoCon 2012
AutoCon was born from the widely popular Automotive Digital Marketing Professional Community (ADM) created by Ralph Paglia and the industry's largest automotive social networking site, DealerELITE.net, created by Chris Saraceno and Mike Myers.  For the first time, these professional networks, which boast over 14 thousand members, will move their online conversations, education and discussions to an educational conference format.
AutoCon 2012 is expected to be the largest event of the year for the automotive industry with an unprecedented line-up of high quality speakers, workshops, learning labs and exhibition space.
Readers can download a full color brochure with details on Autocon 2012:  AutoCon Brochure 
AutoCon 2012 is being produced by First Class Educators (FCE), a leading event planning company whose events have earned the highest the highest dealer and supplier ratings in the automotive industry.
For more information or to register for the conference, please visit http://www.autocon2012.com  or contact Carrie Hemphill at 908-601-6475.