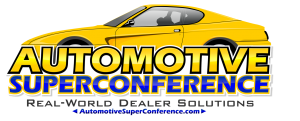 Tracy Myers, along with a team of the auto industry's leading solutions providers, will be bringing the Automotive Super Conference to Charlotte Motor Speedway in June. The Automotive Super Conference is more than just sales and more than just digital or fixed-ops. It's a synergistic approach to everything a dealership needs to compete and dominate in today's customer-driven economy. 
In most other dealership conferences, you have to pick and choose which sessions you want to attend. With multiple sessions planned at the same time, attendees usually miss several sessions that they would have attended otherwise. The Automotive Super Conference was designed with one session per time slot, ensuring that each attendee will receive the full benefit of the wealth of information available.
"In the past six months or so I've attended 4 different conferences, and was always left wanting." Says Craig Lockerd. " It was then that I decided I would look into distilling everything that makes one of these conferences great and throwing out everything else. That's when the idea of the Automotive Super Conference was born."
The Automotive Conference That's "Different" 
The Automotive Super Conference was designed so that everybody in the dealership could attend, with each session being part of the overall, bigger picture. What that means is that each session fits together, with the others, to form synergy from its multiple parts. What that really means is that a dealership can send somebody from each department and return with a holistic approach to solving today's most pressing real-world issues.
"In my 38 years in the auto industry," says Craig Lockerd, CEO of AutoMax Recruiting And Training. "I've been to a lot of conferences and seminars. Never have I been to one that offers the full gamut of real-world dealership solutions, where each attendee didn't have to pick and choose, but could attend each session."

Over a two day period attendees will be presented with 8 different, 90 minute presentations, by industry thought leaders. These experts include, Craig Lockerd of AutoMax Recruiting And Training, Tracy Myers of Frank Myers Auto Maxx, Troy Spring of Dealer World, Jim Bernardi of Auto Pro Training, Tom Wiegand of 1 Team Synergy, Jerry Thibeau of Phone Ninjas, Nancy Simmons of N-Gage and David Johnson of Persuasive Concepts.
The Super Conference Will Feature Real-World Dealership Solutions
Each presenter will present real-world solutions for today's real-world dealership. Each solution has been vetted by the other presenters and will cover a variety of topics: bullet proofing your service department for increased loyalty and profitability, gaining instant credibility and dominating your market by building your expert status, improving your bottom line through the creation of a championship team, why using direct mail the way you're using it now is costing you money, how to create an inbound marketing strategy that will pull in leads like never before, and much more.
"I knew that this was bigger than me." Craig starts. "So I called the best and the brightest together, and as a team, we built the Automotive Super Conference from the ground up. Together we designed the curriculum, wrote out our goals, picked the best possible place for the first conference, and decided that we will always put our best foot forward, offering a complete solution for today's economical climate."
On June 27th and 28th, the first Automotive Super Conference will be held at the beautiful Charlotte Motor Speedway in Charlotte, North Carolina. Both breakfast and lunch will be provided on both days with a cocktail reception after the first day of solutions training, on the 27th. Also, each attendee will receive a lap around the track in an official pace car, just prior to the cocktail reception.
"From beginning to end," Says Tracy Myers, dealer principal of Frank Myers Auto Maxx. "We wanted to create a world-class experience that detailed real-world solutions for today's dealership. We didn't want to have just another conference in Las Vegas, instead we chose a venue as unique as the solutions that will be given. We chose the Charlotte Motor Speedway!"
To register for the Automotive Super Conference and to learn more about each presenter and what they will be presenting on, go to http://www.AutomotiveSuperConference.com. For the first 30 days of open registration, there will be a $500 discount for early bird signups.
Also, sponsorship opportunities are available, check out the "Sponsorship" tab on the site.
About Tracy Myers 
Tracy Myers is commonly referred to as The Nations Premier Automotive Solutions Provider. Best-Selling author and legendary speaker Brian Tracy called him "a visionary to be compared to a Walt Disney for a new generation."
He is also a Certified Master Dealer and was the youngest ever recipient of the National Quality Dealer of the Year award by the NIADA, which is the highest obtainable honor in the used car industry. His car dealership, Frank Myers Auto Maxx, was recently recognized as the number one Small Businesses in NC by Business Leader Magazine, one of the Top 3 dealerships to work for in the country by The Dealer Business Journal and one of the Top 22 Independent Automotive Retailers in the United States by Auto Dealer Monthly Magazine.
Myers has been a guest business correspondent on FOX News, appeared on NBC, ABC and CBS affiliates across the country, been featured in USA Today and written for Fast Company. His inspirational stories and strategies for success are in demand across the country which has given him the opportunity to share the stage with the likes of with Zig Ziglar, James Malinchak, Brian Tracy, Mike Koenig, Bob Burg and Tom Hopkins…just to name a few. His best-selling books help people become better consumers as well as inspire industry leaders to become "game changers." He was also the star of the Telly Award winning film "Car Men".
As the founder of his own marketing and branding academy, Tracy teaches ambitious business owners, professionals and entrepreneurs how to get noticed, gain instant credibility, make millions and dominate their competition.
For more information about Tracy Myers, please visit http://www.tracymyers.com