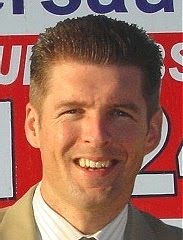 Tracy Myers, owner of Frank Myers Auto Maxx of Winston-Salem, was recognized as one of one of the Top 50 Entrepreneurs in North Carolina today by Business Leader Media.
The winners were chosen from thousands of nominees within six categories. Based on the quality of the nominations, Business Leader chooses four finalists in each category, with the winners being determined by community vote. Last year, over 7,000 people voted for the North Carolina awardees.
Myers remarked, "In a room full of CEO's from hotel chains, financial services companies & technology firms (to name just a few of the industries represented), it was an honor to represent the automotive industry at NC's Top 50 Entrepreneurs for 2010 Awards Ceremony. I was truly stunned to have placed #16 out of all the great entrepreneurs in NC!" Myers continued, "It really is a privilege to be recognized by Business Leader Media, my community and my peers as one of North Carolina's top entrepreneurs. My employees and I are deeply committed to continuing the remarkable environment of entrepreneurship that my great grandfather started more than 82 years ago."
Business Leader Media honored all of the winners at the 15th annual awards ceremony held today at the Bryan Park Conference Center in Greensboro, NC.
About Business Leader in the Triad: Business Leader Media publishes Business Leader magazine, The Book of Leaders and the Corporate Relocation Guide in the Triad and operates the area's largest newswire featuring daily business news, business rankings and business profiles at http://www.TriadNewswire.com. The company hosts over 15 local business events each year in the Triad, including the annual Movers & Shakers, Women Extraordinaire, the Triad Hall of Fame awards, and the Top 100 Small Business awards conferences and a monthly breakfast speaker series featuring top Triad CEOs.