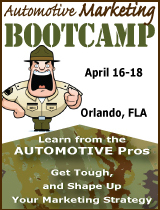 Are you in the automotive industry and looking for the education needed to keep up with the latest trends in dealership operations and marketing? If so, make plans to attend the much-anticipated Automotive Marketing Boot Camp. It is scheduled on April 16-18, just prior to the 10th Digital Dealer Conference in Orlando Florida.
The Boot Camp provides hands on tactical training for Internet Marketing, traditional marketing, social media, lead management, phone handling, video SEO, reputation management, Google Places optimization, blogging content creation, as well as Automotive SEO.
Just announced to speak at the Boot Camp is Tracy Myers, owner of Frank Myers Auto Maxx, who is commonly referred to as The Nations Premier Automotive Solutions Provider. Best-Selling author and Sales Guru Tom Hopkins added that Myers "has an old marketing soul that's reminiscent of a P.T. Barnum". While the legendary Brian Tracy said that he is "a visionary…possibly to be compared to a Walt Disney for a new generation."
Myers is also a Certified Master Dealer, an NIADA Eagle Award Winner and was the youngest ever recipient of the National Quality Dealer of the Year award by the NIADA, which is the highest obtainable honor in the used car industry. Frank Myers Auto Maxx, his dealership was recently recognized as the number one Small Businesses in NC by Business Leader Magazine, one of the Top 3 dealerships to work for in the country by The Dealer Business Journal and one of the Top 22 Independent Automotive Retailers in the United States by Auto Dealer Monthly Magazine.
He has also been a guest commentator on the FOX Business Network and has also been featured on NBC, ABC, CBS and FOX affiliates across the country.
Tracy's presentation at The 2011 Automotive Marketing Boot Camp is titled YOU Are The Brand Stupid: How To Get Noticed, Gain Instant Credibility, Make Millions and Dominate Your Competition By Building Your Celebrity Expert Status, which is also the name of his upcoming book.
Automotive Marketing Boot Camp to Feature Keynote Speakers
Other workshop leaders this year include dealer principals and dealership employees that have stood above their peers in achieving excellence in their dealership's digital marketing and sales strategies. Workshop leaders include Scott Falcone, Jeffrey Kershner, Andrew DiFeo, Hagen Durant, Scott Falcone, and Timothy Martell.
The Boot Camp is also attracting popular speakers with specialized skills including Jerry Thibeau, Brian Pasch, and Alex Snyder.
The Automotive Marketing Boot Camp delivers the knowledge and skills dealers need to create, execute and manage effective dealership processes. New to this year's program will be added seminars on back-end marketing; how to better handle phone calls and leads to maximize lead conversion. The boot camp is perfect for General Managers and Internet Sales Managers. Last year, Boot Camp attendees posted rave reviews of their investment of time for this event.
The Automotive Marketing Boot Camp is very unique and effective because participants receive preparation materials in advance of the class and come fully prepared to engage in actual demonstrations. Participants use their own accounts during the classes so that they can then continue to work with them on their own long after the boot camp.
Learn more about the Boot Camp and register online at http://www.automotivemarketingbootcamp.com