To all of my car dealer friends…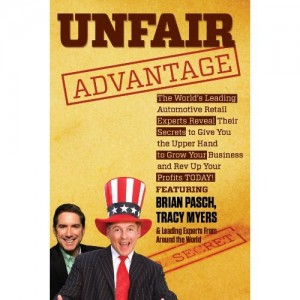 FINALLY revealed !! Your book of the latest and greatest auto retail marketing miracles is here for you. No one wants to see potential customers drive off into the distance. You can now learn to accelerate revenues and speed your auto business towards a more prosperous future. 
Inside this book you'll find over 200 pages filled with practical and proven techniques, that will drive customers to your business, how to optimize your Internet marketing strategies, and how make your business every customer's FIRST choice.
My new book "Unfair Advantage; The World's Leading Automotive Retail Experts Reveal Their Secrets to Give You the Upper Hand to Grow Your Business and Rev Up Your Profits TODAY!" is coming out this week, Thursday, September 13th  (don't worry I'll remind you!), and I've put together a huge bonus package for you if you'll help us launch the book on Thursday!
Like I said, I'll remind you, but if you are willing to help us launch with great success, by buying the book (It's only $19.95!), then I'll give you hundreds of dollars worth of bonuses in addition to the new ideas you will get from reading my book.
I appreciate your support and I'll get back with you in a couple of days to remind you about the launch and to tell you more about the bonuses I'm putting together!
Your Friend,
Tracy E. Myers, CMD
Author/Owner of Frank Myers Auto Maxx