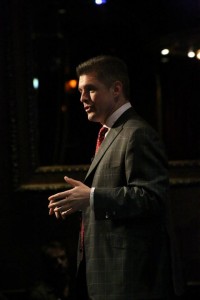 Tracy Myers is bringing his presentation "You Are The Brand, Stupid!" to ConvergeSouth in Greensboro, NC on October 12, 2012. This presentation is based on his #1 best-selling and Golden Quill award-winning book of the same title.
Tracy is an award-winning small business marketing & branding solutions specialist, car dealership owner, best-selling author, speaker, business coach and entrepreneur. He is commonly referred to as The Nation's Premier Automotive Solutions Provider while Best-Selling author and legendary speaker Brian Tracy called him "a visionary…a Walt Disney for a new generation."
He is also a Certified Master Dealer and was the youngest ever recipient of the National Quality Dealer of the Year award by the NIADA, which is the highest obtainable honor in the used car industry. His car dealership, Frank Myers Auto Maxx, was recently recognized as the number one Small Business in NC by Business Leader Magazine, one of the Top 3 dealerships to work for in the country by The Dealer Business Journal, one of the Top 15 Independent Automotive Retailers in the United States by Auto Dealer Monthly Magazine and one of the fastest growing privately owned small businesses in America by Inc. magazine.
Tracy has been featured in publications such as Inc. Magazine, USA Today and Success Magazine, been profiled on The Biography Channel and The History Channel, written for Fast Company, been a guest business correspondent for the FOX News Network plus he's appeared on NBC, ABC and CBS affiliates across the country. His inspirational stories and strategies for success have given him the opportunity to share the stage with the likes of Jack Canfield, Zig Ziglar (Author of See You At The Top), James Malinchak (Star of ABC's The Secret Millionaire), Brian Tracy, Bob Burg (Co-Author of The Go-Giver), Tom Hopkins and Neil Strauss (Author of The Game & Co-Author of The Dirt with Motley Crue)…just to name a few.
Tracy is recognized as one of the top thought-leaders in the business world and has authored or co-authored 7 best-selling books alongside Brian Tracy (Author of Eat That Frog), Jack Canfield (Author of The Secret, Creator of the Chicken Soup for the Soul Series), Tom Hopkins (Author of How To Master The Art Of Selling) and many others, including the breakthrough #1 hit YOU Are The Brand, Stupid!. He was also featured in the film "Car Men", which won 5 Telly Awards, and is an Executive Producer of the film "Esperanza".
As the founder of his own coaching program, Tracy teaches ambitious car dealership owners and employees how to get noticed, gain instant credibility, make millions and dominate their competition by building their expert status.
Tracy spends his spare time with Christmas Toy Drive, Uncle Frank Gives, Marketers for Good, WrestleCade and is an active member of Agape Faith Church with his wife Lorna and their two children, Presley and Maddie.
About ConvergeSouth
ConvergeSouth is the region's premiere technology and creativity for business conference. It's run by passionate volunteers and supported by wonderful sponsors that have a mission to empower entrepreneurs and business with technology and creativity.
ConvergeSouth will be held at Elon Law School in downtown Greensboro, NC. Admission is less than $100 and the event will sell out so sign up today!