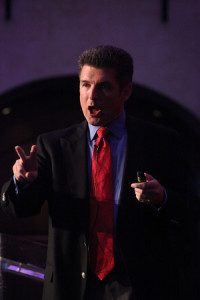 Best-selling author, marketing and branding specialist, business coach, entrepreneur, movie producer and car dealership owner, Tracy Myers, will be acting as Master of Ceremonies for the Used Vehicle Retailing education at the 2013 Industry Summit and Used Car University Convention, which will be held September 16-18, 2013 at the Paris Hotel in Las Vegas, NV.
Myers has been featured in Forbes Magazine, USA Today & Success Magazine and has been profiled on The Biography Channel and History Channel. He has written for Fast Company, been a guest business correspondent for the FOX News Network and has appeared on NBC, ABC and CBS affiliates across the country. He is also a Certified Master Dealer and was the youngest ever recipient of the National Quality Dealer of the Year award by the NIADA, which is the highest obtainable honor in the used car industry.
"Every dealer has a used car operation and it has become much more sophisticated over the last few years, so it was important to bring this education to the convention," said show chairman and Used Car University President Greg Goebel. "With the expansion of the show we were looking for someone knowledgeable, experienced and a true automotive professional to help us as a Master of Ceremonies. Tracy was the perfect choice."
Myers car dealership, Frank Myers Auto Maxx, was recognized as the #1 Small Business in NC, one of the Top 3 dealerships to work for in the country, one of the Top 15 Independent Automotive Retailers in the United States and one of the fastest growing privately owned small businesses in America by Inc. magazine.
The Used Vehicle Retailing Convention is one of three different education tracks that Used Car University is offering at the Industry Summit, the other two being the Subprime Conference and CRM Convention. Used Car University's Subprime Conference is the largest gathering of Special Finance Professionals in any one location all year, with a purpose of helping dealers in special finance increase profits or improve operations through market penetration.
The Used Vehicle Retailing education is suitable for franchise and independent dealer principals, general managers, general sales managers and used car managers.
About Used Car University
Founded in 1998, Used Car University (formerly Auto Dealer Monthly, LLC) is an education and training company and the respected resource of retail automotive dealer education. Used Car University also owns the automotive social media site AutoDealerPeople.com. For more information about Used Car University go to www.usedcaruniversity.com or for the convention go to http://www.ucuconvention.com.
About the Industry Summit
The Industry Summit is co-sponsored by Used Car University and Bobit Business Media. This Annual event now includes four shows of education – Subprime, CRM, Used Vehicle Retailing and F&I. Attendees must register for their primary education interest but may attend education across all educational shows.