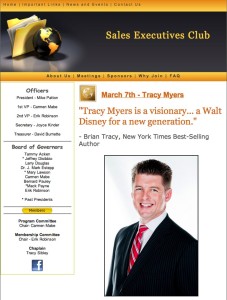 Tracy Myers, an award-winning small business marketing & branding solutions specialist shared money making marketing and branding secrets to a capacity crowd in Bluefield, Virginia on Thursday, March 7, 2013.
Myers taught an abbreviated an abbreviated version of the YOU Are The Brand, Stupid! seminar which is based on his #1 best selling book. He showed the attendees how to leverage their greatest asset with a step-by-step guide that shows them how to easily gain publicity and increased sales without having to spend their hard earned money on a pricey publicist.
Over the course of the seminar, Myers taught the group how to…
Be the media's go-to expert in their industry, gaining prestige and valuable exposure for free.

Effectively harness social-media tools like Facebook, Twitter, Google+ and Instagram to boost their bottom line.

Host popular events that will have people clamoring to buy their product or service. 

Produce marketing materials that potential consumers actually want.

Cut their learning curve by two thirds and have a huge leg up on your competitors by sidestepping the top marketing mistakes.

Utilize 10 brand-building strategies to launch their business into hyper drive, and much, much more!
Click here to learn how to bring Tracy to your organization or function.
About The Sales Executive's Club
Since its formation in 1954, the Sales Executives Club has played a vital role in advancing salesmanship in the Mercer/Tazewell county area and helps make it the important retailing-wholesaling service center that it is today.
There is a rich history associated with the Sales Executives Club. Formation of the club was sponsored by the Roanoke Sales Executives Club, which is now defunct. For several years, the club was associated with the New York based National Sales Executives Club, which no longer exists. Many things have changed over the years, but the one constant is the goal to provide assistance for our members in improving their own abilities and enhancing the performance of their businesses.
Over the years, some of the nation's foremost speakers on salesmanship, advertising, public relations and related subjects have addressed the Sales Executives Club. We occasionally draw from the talents of our own members or prominent local executives to make presentations. The club also hosts periodic seminars and workshops available to members and their associates at a fraction of the cost normally associated with such high caliber programs.
The social hour that always preceeds the club's dinner at Fincastle Country Club is a pleasant and helpful interlude each month. It enables members to get better acquainted and to indulge in "shop talk" in a relaxed and informal atmosphere. The social hour also reflects the opportunity for our "Mystery Handshaker", another club tradition, to circulate and choose two members to receive door prizes. Indeed, some Sales Executives say this networking feature is as helpful to them in their businesses as the speaker following dinner.
About Tracy Myers 
Tracy is an award-winning small business marketing & branding solutions specialist, car dealership owner, best-selling author, speaker, business coach and entrepreneur. He is commonly referred to as The Nation's Premier Automotive Solutions Provider while Best-Selling author and legendary speaker Brian Tracy called him "a visionary… a Walt Disney for a new generation."
He is also a Certified Master Dealer and was the youngest ever recipient of the National Quality Dealer of the Year award by the NIADA, which is the highest obtainable honor in the used car industry. His car dealership, Frank Myers Auto Maxx, was recently recognized as the number one Small Business in NC by Business Leader Magazine, one of the Top 3 dealerships to work for in the country by The Dealer Business Journal, one of the Top 15 Independent Automotive Retailers in the United States by Auto Dealer Monthly Magazine and one of the fastest growing privately owned small businesses in America by Inc. magazine.
Tracy has been featured in publications such as Forbes, USA Today and Success Magazine, been profiled on The Biography Channel and The History Channel, written for Fast Company, been a guest business correspondent for the FOX News Network plus he's appeared on NBC, ABC and CBS affiliates across the country. His inspirational stories and strategies for success have given him the opportunity to share the stage with the likes of Jack Canfield, Zig Ziglar (Author of See You At The Top), James Malinchak (Star of ABC's The Secret Millionaire), Brian Tracy, Bob Burg (Co-Author of The Go-Giver), Tom Hopkins and Neil Strauss (Author of The Game & Co-Author of The Dirt with Motley Crue)…just to name a few.
Tracy is recognized as one of the top thought-leaders in the business world and has authored or co-authored 7 best-selling books alongside Brian Tracy (Author of Eat That Frog), Jack Canfield (Author of The Secret, Creator of the Chicken Soup for the Soul Series), Tom Hopkins (Author of How To Master The Art Of Selling) and many others, including the breakthrough #1 hit YOU Are The Brand, Stupid!. He was also featured in the Emmy nominated film "Car Men", which won 5 Telly Awards, and is an Executive Producer of the film "Esperanza".
As the founder of his own coaching & consulting program, Tracy teaches ambitious professionals, entrepreneurs and business owners how to get noticed, gain instant credibility, make millions and dominate their competition by building their expert brand.
Tracy spends his spare time with charities that are close to his heart and has made his home in Lewisville, NC with his wife Lorna and their two children, Presley and Maddie.
For more information about Tracy, visit his website at http://www.tracymyers.com