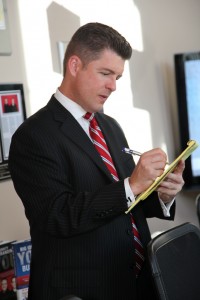 Tracy Myers has been selected to present at the fourth annual DrivingSales Executive Summit (DSES), the most authoritative profit-building event for innovative dealers. Myers joins an impressive agenda that also includes high-profile keynotes from Billy Beane of 'Moneyball' fame, SEO 'superstar' Rand Fishkin, mobile experience expert Luke Wroblewski, renowned leadership trainer Jim Dance, and an exclusive presentation from Facebook and Google. The DSES will be held Sunday, October 21st through Tuesday, October 23rd, 2012 at the Bellagio Las Vegas.
Myers will present a breakout session at the summit titled "Profiting From A PR Disaster" on October 4th, 2012 at 4pm. All speakers and content for the summit were selected by the DSES Dealer Advisory board.
"I'm extremely honored and humbled to have been chosen to share my story at the DrivingSales Executive Summit," said Myers. "Most of the dealer community has heard me speak about marketing and branding. However, my presentation at DSES is an exclusive, in-depth profile of my run in with the FTC and how I handled the negative press to my advantage."
Myers continued by urging all dealership employees to attend his session because there are no plans to deliver it again. "I had to get special permission and jump through lots of hoops just to be able to share this important story at DSES. However, I don't think I'm willing to go through that grief again. This is probably the last time I'll deliver it to a public audience." Myers has also promised that he will be supplying a free case study about the incident to anyone who attends his session.
About "Profiting From A PR Disaster": What happens when the fundamental integrity of a business dedicated to honest and fair sales practices is brutally attacked in the media? And with the federal governments help? That's exactly what happened to Frank Myers Auto Maxx on Wednesday, March 14th, 2012. Attend Tracy's presentation at the DrivingSales Executive Summit on Tuesday, October 23, 2012 at 4pm to find out how they recovered from this vicious assault to its good name and how you can follow their example.
"Myers was selected from an outstanding field of nearly 100 applicants, and we are confident that DSES attendees will learn a great deal from this extremely relevant topic. We are proud to add Myers to our exciting line-up for 2012," said DrivingSales CEO and Founder, Jared Hamilton. "His presentation on brand management resonated with the dealer board, and will be an important part of the profit-building takeaways for summit attendees as they craft their 2013 business plans."
The DrivingSales Executive Summit is 100% dealer driven and designed specifically for the most advanced dealer principals and dealership executives in the industry. The summit has a vendor-neutral policy, meaning no vendor influence on presentation selection and adherence to a strict dealer-to-vendor ratio.  The DrivingSales Executive Summit is the only automotive conference where dealers decide the agenda, not the vendor sponsors. This translates into the highest level of learning for the dealer attendees versus other events where workshops are little more than glorified sales pitches.
Last year's summit was standing room only, and although DSES 2012 will allow for an expanded number of registrants, it is expected to sell out quickly. Register for DSES at: http://drivingsalesexecutivesummit.com/features/standard-registration/.
For more information about the DrivingSales Executive Summit, visit: www.DrivingSalesExecutiveSummit.com or contact dses@drivingsales.com. Stay tuned for DSES news as it develops on www.twitter.com/drivingsales and on www.facebook.com/drivingsales. Participate in the conversation with the #DSES hashtag as preparations continue throughout the year.
About Tracy Myers
Tracy Myers is commonly referred to as The Nation's Premier Automotive Solutions Provider. Best-Selling author and legendary speaker Brian Tracy called him "a visionary…a Walt Disney for a new generation."
He is also a Certified Master Dealer and was the youngest ever recipient of the National Quality Dealer of the Year award by the NIADA, which is the highest obtainable honor in the used car industry. His car dealership, Frank Myers Auto Maxx, was recently recognized as the number one Small Business in NC by Business Leader Magazine, one of the Top 3 dealerships to work for in the country by The Dealer Business Journal and one of the Top 15 Independent Automotive Retailers in the United States by Auto Dealer Monthly Magazine.
Myers has been a guest business correspondent on FOX News, appeared on NBC, ABC and CBS affiliates across the country, been featured in USA Today and written for Fast Company. His inspirational stories and strategies for success are in demand across the country which has given him the opportunity to share the stage with the likes of Zig Ziglar, James Malinchak, Brian Tracy, Mike Koenig, Bob Burg and Tom Hopkins…just to name a few. His books include the #1 Best-Sellers Uncle Frank 'Sez' and YOU Are The Brand, Stupid! in addition to Pushing To The Front written with the legendary Brian Tracy, In It To Win It written with Tom Hopkins and The Success Secret written with Jack Canfield. They help people become better consumers as well as inspire industry leaders to become "game changers." He was also featured in the Telly Award winning film "Car Men".
As the founder of his own marketing and branding academy, Tracy teaches ambitious business owners, professionals and entrepreneurs how to get noticed, gain instant credibility, make millions and dominate their competition by building their celebrity expert status.
About DrivingSales 
Founded in 2008 and dedicated to the dealer community, DrivingSales is a business intelligence and data company that delivers unbiased*, profit-building information to make automobile dealers more successful through three distinct channels: DrivingSales Data, DrivingSales University and DrivingSales Media. DrivingSales Data houses the largest database of cross-vendor, dealership performance data in the North American auto industry and provides dealerships with the most statistically accurate performance benchmarks and metrics for their marketing and technology investments. DrivingSales University is a fully interactive online university that offers advanced profit-building strategies to automotive professionals through hundreds of classes taught by world-leading experts. DrivingSales Media connects dealers to peers and information through its global media assets, including DrivingSales.com, the world's largest automotive social network; The Dealership Innovation Guide, an industry leading quarterly publication; DrivingSales Executive Summit, the top automotive conference for progressive dealers, and DrivingSalesTV, Web TV covering everything car-dealer related. Approximately one in every three dealerships in the United States has a registered member in the DrivingSales community.
*Vendor Neutral Policy: Dedicated solely to making dealerships more profitable, while also providing benefit to automakers and the industry as a whole, DrivingSales adheres to a strict vendor neutral policy through each of its channels. This means the company only provides unbiased information, not 'pay-to-play' follow up services — and never accepts payment in exchange for media coverage or lets potential advertisers dictate messaging or create bias in any of its channels.