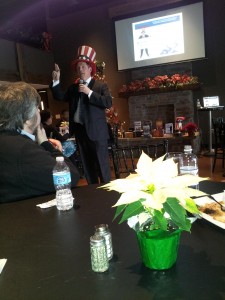 Tracy Myers, the award-winning small business marketing & branding solutions specialist from Winston Salem, brought his "YOU Are The Brand" presentation to a packed house of Linking Winston Salem members on December 11th, 2012. 
"It's ironic that I've traveled the country the past 2 years teaching others about the power of personal marketing and branding but I rarely get to speak to my home crowd," said Myers. "This was a fantastic opportunity and I can't thank the nice folks of Linking Winston Salem enough for presenting me the opportunity."
About Linking Winston Salem
Linking Winston-Salem is a gathering of professionals in Winston-Salem and Forsyth County wishing to grow professionally. Using new technology as well as old-fashioned networking opportunities, Linking Winston-Salem and you can help create an even better place to work and live.
About Tracy Myers
Tracy is an award-winning small business marketing & branding solutions specialist, car dealership owner, best-selling author, speaker, business coach and entrepreneur. Business Leader Magazine recently recognized his car dealership, Frank Myers Auto Maxx, as the number one Small Business in NC.
Tracy has been featured in publications such as Inc. Magazine, Forbes, USA Today and Success Magazine, been profiled on The Biography Channel and The History Channel, written for Fast Company, been a guest business correspondent for the FOX News Network plus he's appeared on NBC, ABC and CBS affiliates across the country.
Tracy spends his spare time with charities that are close to his heart: Christmas Toy Drive, Uncle Frank Gives, Marketers for Good and WrestleCade. He has made his home in Lewisville, NC with his wife Lorna and their two children, Presley and Maddie.