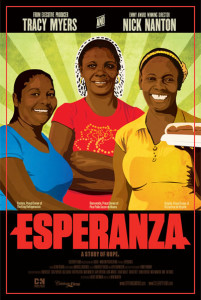 Celebrity Films is proud to announce the VIP Red Carpet Premiere of the short film "Esperanza". Winston Salem entrepreneur and owner of Frank Myers Auto Maxx, Tracy Myers, served as Executive Producer and Emmy Award winner Nick Nanton directed the film.
This touching and inspiring short film showcases Esperanza International – an organization that dedicates itself to free children and their families from poverty through initiatives that generate income, education and health, restoring self-worth and dignity to those who have lost hope.
The VIP Red Carpet Premiere for 'Esperanza' will be held at the a'perture cinema in Winston-Salem, NC on Thursday, May 2, 2013. Doors open at 7:30pm. The movie premieres at 8pm. The event is by invitation only and has been sold out for several weeks.
"I am extremely honored to have been Executive Producer of this film and to be personally involved with Esperanza International. I'm also proud that the VIP Red Carpet Premiere is being held in the great city of Winston-Salem," said Tracy Myers.
About The Film 'Esperanza'
When Seattle Mariners catcher Dave Valle came to the Dominican Republic to play winter ball in 1985, he was only expecting to improve his baseball.
Instead, he found a lifetime commitment.
Motivated by the poverty he and his wife witnessed during his visits to the region, Dave and his wife founded Esperanza in 1995, an organization dedicated to giving those who needed it "a hand up, not a hand out."
Now, this absorbing film chronicles Esperanza's inspirational and moving story – through the eyes of those whose lives have been changed in incredible ways. Discover how local families have been empowered to become entrepreneurs – with businesses that have lifted both their incomes and their spirits. And see the renewed hope for a brighter future in the eyes of their children.
Valle describes Esperanza as the "gift that keeps on giving." In this film, you'll see just how valuable that gift can be.
Will You Help 'Esperanza International'?
To make a donation to Esperanza International, go HERE.
To help spread the news through press inquiries about the film Esperanza or Esperanza International, go HERE.