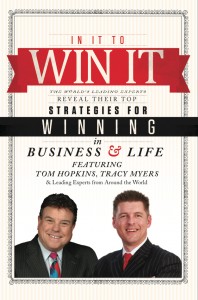 Tracy Myers, owner of Frank Myers Auto Maxx, recently joined a select group of the world's leading business experts and best-selling author and speaker, Tom Hopkins, to co-author the book, In It To Win It: The World's Leading Experts Reveal Their Top Strategies for Winning in Business and in Life! The book was released by CelebrityPress™ – a leading business book publisher.
In It To Win It: The World's Leading Experts Reveal Their Top Strategies for Winning in Business and in Life! was released on Thursday, August 2nd, 2012 and features entrepreneurs and professionals from around the world revealing their top secrets on an array of subjects ranging from health, wealth and marketing, to business success.  Some of the topics covered in the book include meeting client expectations, luxury home marketing, growing your virtual business, keys to highly successful marketing leaders, thinking like an owner, re-engineering your sales force, the psychology of sales and creating loyalty, among others.
On the day of release, In It To Win It reached best-seller status in four Amazon.com categories – reaching #2 in the Direct Marketing category.  The book also reached best-seller status in the Small Business & Entrepreneurship, Marketing, and Entrepreneurship categories.
Tracy Myers is a Certified Master Dealer and was the youngest ever recipient of the National Quality Dealer of the Year award by the NIADA, which is the highest obtainable honor in the used car industry. His car dealership, Frank Myers Auto Maxx, was recently recognized as the number one Small Businesses in NC by Business Leader Magazine, one of the Top 3 dealerships to work for in the country by The Dealer Business Journal, one of the Top 15 Independent Automotive Retailers in the United States by Auto Dealer Monthly Magazine and one of the fastest growing privately owned small businesses in America by Inc. magazine.
Myers has been a guest business correspondent on FOX News, appeared on NBC, ABC and CBS affiliates across the country, been featured in USA Today and written for Fast Company. His inspirational stories and strategies for success are in demand across the country which has given him the opportunity to share the stage with the likes of with Zig Ziglar, James Malinchak, Brian Tracy, Mike Koenig, Bob Burg and Tom Hopkins…just to name a few. His best-selling books help people become better consumers as well as inspire industry leaders to become "game changers." He was also the star of the Telly Award winning film "Car Men", which was shown on The Biography Channel, and is an Executive Producer of the film "Esperanza".
After such a successful release, Tracy Myers will be recognized by The National Academy of Best-Selling Authors™, an organization that honors authors from many of the leading independent best-seller lists.
For more information about Tracy Myers, visit http://www.tracymyers.com