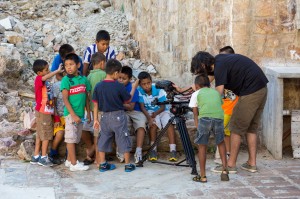 Best-selling author Tracy Myers, in a joint effort with Entrepreneurs International Foundation, is serving as a Producer of an upcoming documentary film from CelebrityFilms®.  Emmy® Award winning Director, Nick Nanton, is directing the film, which is a documentary about the Casa Hogar children's home in Acapulco, Mexico. It launched production in early January, 2013.  
The documentary will reveal an in-depth look at the incredible story of the Casa Hogar children's home in Acapulco, specifically how the home is providing a nurturing environment with a focus on education in this economically disadvantaged region. Casa Hogar is a children's home that provides care, shelter, strength, love and hope in a Christian environment for orphaned and abandoned children in Acapulco, Mexico.
The work that the orphanage is doing "is changing the lives of these kids. They are bringing in kids from the streets and providing them with not only food, shelter and education, but most importantly the love of a family environment," said Director Nick Nanton.  "We are excited that we got to film a movie as well as renovate their library and computer center with hundreds of new books and 10 new computers," Nanton continued.
"Being Producer of this film was an incredible experience," said Tracy Myers. "However, it was more about helping those kids than making a movie. The movie was just a bonus."
Tracy Myers is joining The Emmy® Award winning team at CelebrityFilms® to help bring this film to full production. Tracy was also an executive producer of the film, "Esperanza," filmed last year in The Dominican Republic and was the subject of the Emmy® nominated film "Car Men".
About Tracy Myers 
Tracy Myers is an award-winning small business marketing and branding solutions specialist, best-selling author, speaker, business coach and entrepreneur. As the founder of his own coaching program, Tracy teaches ambitious professionals, entrepreneurs and business owners how to get noticed, gain instant credibility, make millions and dominate their competition by building their expert brand.
Tracy has been featured in publications such as Forbes, USA Today and Success Magazine, been profiled on The Biography Channel and The History Channel, written for Fast Company, been a guest business correspondent for the FOX News Network plus he's appeared on NBC, ABC and CBS affiliates across the country. His inspirational stories and strategies for success have given him the opportunity to share the stage with the likes of Jack Canfield, Zig Ziglar (Author of See You At The Top), James Malinchak (Star of ABC's The Secret Millionaire), Brian Tracy, Bob Burg (Co-Author of The Go-Giver), Tom Hopkins and Neil Strauss (Author of The Game & Co-Author of The Dirt with Motley Crue)…just to name a few.
Tracy is recognized as one of the top thought-leaders in the business world and has authored or co-authored 7 best-selling books alongside Brian Tracy (Author of Eat That Frog), Jack Canfield (Author of The Secret, Creator of the Chicken Soup for the Soul Series), Tom Hopkins (Author of How To Master The Art Of Selling) and many others, including the breakthrough #1 hit YOU Are The Brand, Stupid!. He was also featured in the Emmy nominated film "Car Men", which won 5 Telly Awards, and is an Executive Producer of the film "Esperanza".
For more information about Tracy Myers, visit http://www.tracymyers.com 
Learn more about Casa Hogar at http://micasahogar.org/