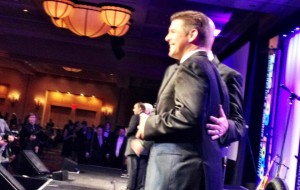 Winston Salem, NC based used car dealership recognized for its placement on the 2012 Inc. 500 | 5000 list. The annual list, compiled by Inc. Magazine, ranks the 5,000 fastest-growing, privately held companies in America based on criteria such as revenue growth, metro region and industry over a four-year period.
Tracy Myers, owner of Frank Myers Auto Maxx, was on hand in Phoenix, Arizona on October 5, 2012 to accept the award in front of a standing room only audience.
Frank Myers Auto Maxx specializes in helping people find, qualify for and own the vehicle of their dreams with little or no money down…even with less than perfect credit. This is the car dealerships first time on the Inc 500/5000 list.
The Inc. 500 | 5000 was originally introduced by Inc. Magazine in 1982. The list is compiled according to percentage revenue growth over a four-year period. Companies must be independent, privately held and based in the United States in order to qualify for selection.
The Inc 500/5000 award tops a list of honors for Frank Myers Auto Maxx in 2012. The dealership was also named one of the top 15 independent dealerships in the United States by Auto Dealer Monthly and one of the top 300 businesses in the South by Business Leader. 
"Being recognized on the Inc. 500 | 5000 list is something that not many companies can say they have achieved. It speaks volumes not only about our employees but the faith our customers have in our ability to provide the automotive solutions they are looking for", said Tracy Myers, owner of Frank Myers Auto Maxx. 
Myers added,  "I'm confident that we will make this list again in 2013."