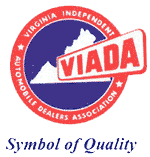 The Virginia Independent Automobile Dealers Association has announced that car dealership owner, best-selling author and award-winning entrepreneur Tracy Myers will be speaking at their upcoming 51st annual convention and expo at The Homestead Resort in Hot Springs, Virginia July 26 – 29, 2012.
The convention and expo will be offering workshops and sessions specifically targeted to the needs of Virginia dealers.
This years convention and expo is being sponsored by ADS Management, Greensboro Auto Auction, Guardian Warranty Company, Manheim, Comsoft, 1st Choice and others. Please visit the official convention web site for a full listing at https://www.viada.org/convention.php
About Tracy Myers, CMD
Myers, owner of Frank Myers Auto Maxx, is commonly referred to as The Nations Premier Automotive Solutions Provider. Best-Selling author and legendary speaker Brian Tracy called him "a visionary to be compared to a Walt Disney for a new generation."
He is also a Certified Master Dealer and was the youngest ever recipient of the National Quality Dealer of the Year award by the NIADA, which is the highest obtainable honor in the used car industry. His car dealershiprship, Frank Myers Auto Maxx was recently recognized as the number one Small Businesses in NC by Business Leader Magazine, one of the Top 3 dealerships to work for in the country by The Dealer Business Journal and one of the Top 22 Independent Automotive Retailers in the United States by Auto Dealer Monthly Magazine.
He has shared his business acumen with viewers of FOX News, appeared on NBC, ABC and CBS affiliates across the country, been featured in USA Today and has appeared on stages from coast to coast to share his inspirational stories and strategies for success. His best-selling books help people become better consumers as well as inspire industry leaders to become "game changers."
As the founder of his own marketing and branding academy, Tracy teaches ambitious business owners, professionals and entrepreneurs how to get noticed, gain instant credibility, make millions and dominate their competition.
For more information about Tracy Myers, please visit http://www.tracymyers.com
About The VIADA
The Virginia Independent Automobile Dealers Association was officially organized and incorporated in 1960 and traces its beginning back some 15 years prior to a group of Norfolk dealers who formed a local association for the purpose of fighting unfair laws and regulations.
VIADA is a 501(c)(6) tax exempt trade association affiliated with the National Independent Automobile Dealers Association.
Our mission is to inform, educate, and represent motor vehicle dealers in all forums, and to work in cooperation with other organizations to make the Commonwealth of Virginia a safer community for all. This mission is fulfilled through meetings of our eight districts, bimonthly magazine, various other publications, workshops and most importantly our "800 Dealer Hot Line".
Of primary importance is our presence in Richmond. Both regulators and legislators recognize VIADA as the voice of the independent dealers. As a result, we are advised and consulted before any measure affecting dealers is considered. The Association employs a lobbyist who works with our Legislative Committee which is made up of independent dealers throughout the state.
The Association employs an Executive Director to execute policies set by the Board of Directors as well as direct the day-to-day activities. VIADA has six employees, all of whom are pleased to serve your needs.
As a service to its members and an additional source of revenue, the Association maintains an inventory of specialized business forms and other supplies, and has a market for business and personal lines of insurance in addition to other member benefits. VIADA also produces regional workshops and an Annual Convention and Expo.
VIADA has maintained a relatively steady growth in membership and member programs over the years. Future plans call for this to continue, for the more complex the business becomes the more an actively involved trade association is needed.
For more information about the VIADA or the convention, please visit http://www.viada.org/